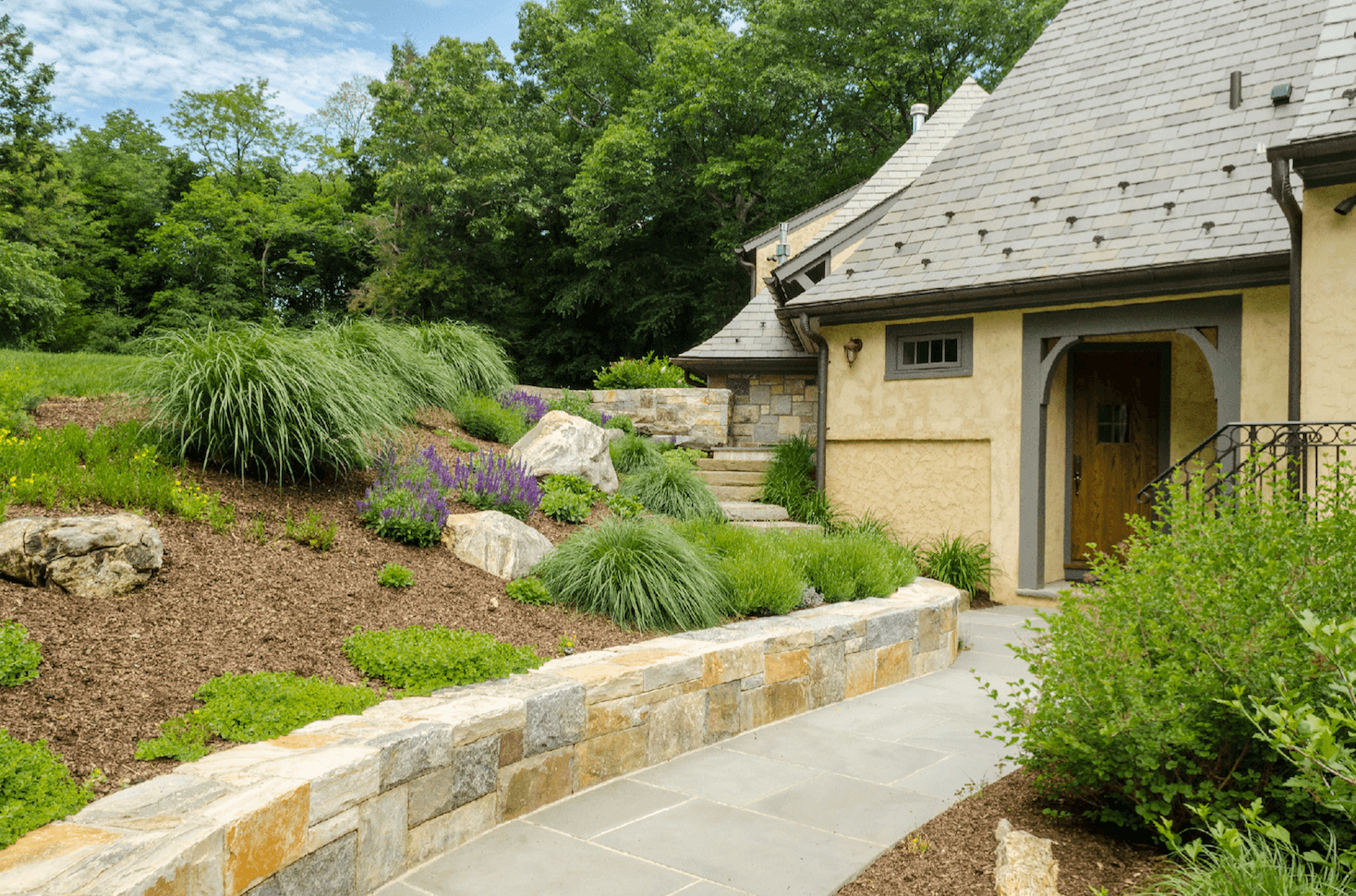 tudor renovation - westchester, NY
Driven by a desire to create spaces of equal quality, what started as a kitchen redesign for this 1930s Tudor evolved into a nearly full-home renovation.
The flat roof over the family room—the remnant of a 1970s renovation—was replaced with a steeply pitched slate shingle roof, adding to the historic character of the home and blending perfectly with the existing structure. A highlight of the newly designed exterior is a stone turret, which provides a whimsical, rustic element. The turret also serves as a side entrance, an addition to one of the kids' bedrooms above, and a curved staircase to a rustic wine cellar below. Built on a diagonal to the existing house, the garage follows the contours of a hill leading to a play area. The angle creates a connecting space that became the laundry room and mudroom, while also providing access to the family room, garage, and rear yard. Additionally, the exterior renovations included a new two-level deck with a pergola overhead and a stone grilling area.
Inside, updates were made to the main entry, sunroom, dining room, art room, family room, kitchen, guest room, and guest bathroom, while a new breakfast room was added in another turret. Daniel Contelmo Architects strove to provide details that reflected those of the original house, while adding some formality to the spaces that demanded it.
RECOGNITION:
2014 Silver "Qualified Remodeler," Master Design Awards, Whole Home more than $700,000
2014 Silver "Qualified Remodeler," Master Design Awards, Finished Basement
Published in the Summer 2015 issue of "Outdoor Home Magazine"
Published in the Winter 2015 issue of "Westchester Home Magazine"
Published in the October 2014 issue of "Qualified Remodeler"
OTHER PROFESSIONALS:
Interior Designer: Laura Thompson
Photographer: Kris Kendall, Daniel Contelmo Jr.
SERVICES PROVIDED:
Architecture, Interiors, Construction Contract Administration