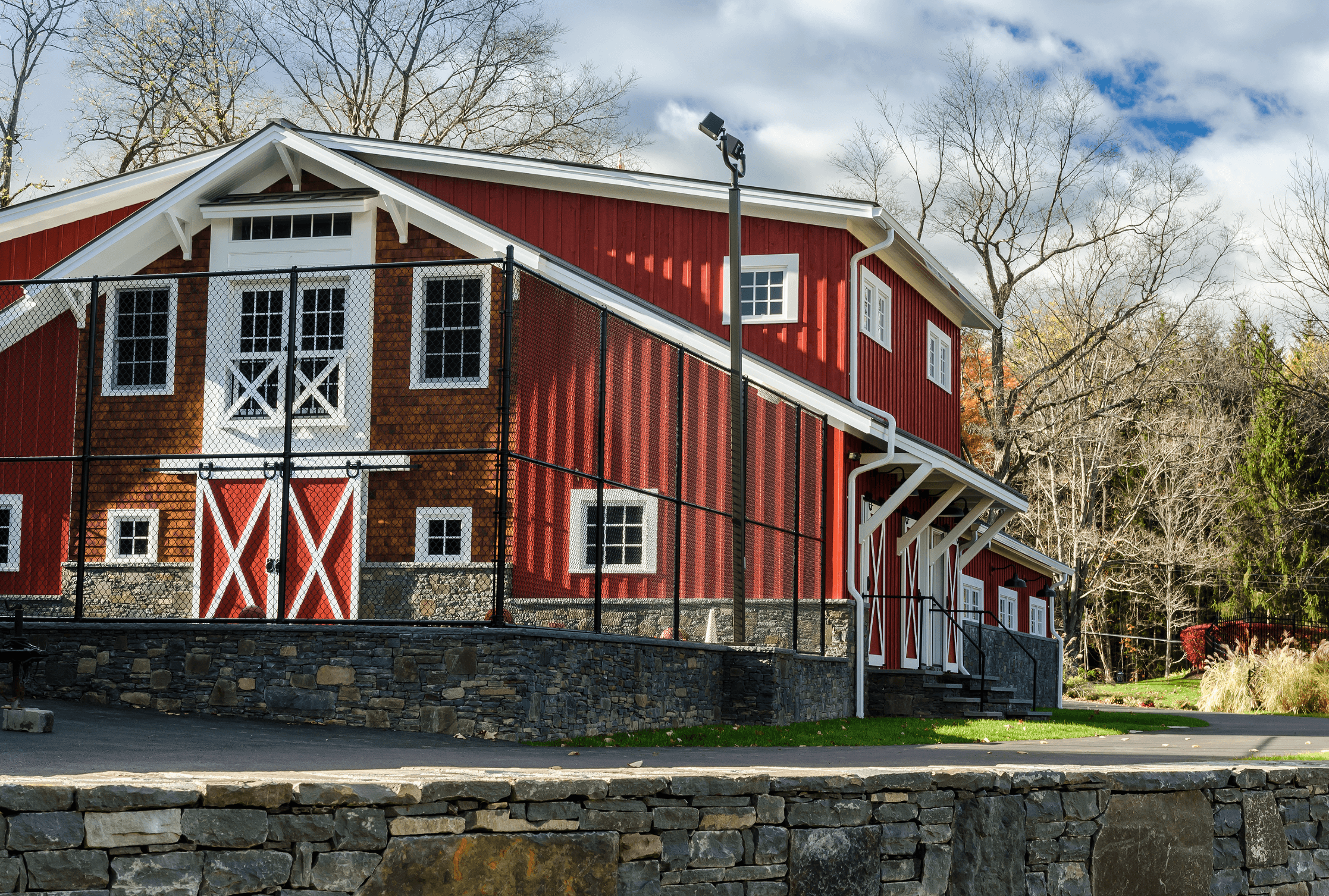 Man barn - Pleasant Valley, NY
Shortly after breaking ground to build another architect's plan, the owners of this 100-year old barn stumbled upon the designs of Daniel Contelmo Architects. Once they saw the firm's work, especially the design of another award-winning barn, they knew they needed to switch gears. While the previously-hired contracting firm was racing to put walls up before winter weather set in, the team at Daniel Contelmo Architects was redesigning the barn's interior spaces.
The original barn floor was re-structured and received a new roof and a dormer that provided some much-needed light. The team located the sleeping space in the original barn, using sliding barn doors to separate it from the bar, kitchen, pool table, and TV space in the addition. The roof lanthorn was remodeled to let in more light directly over the 4-person custom bunk beds. In the dormer, a window seat that doubles as a bed was installed with a trundle below. The existing upper level now contains a bathroom, closet and office, while the first floor boasts an elaborate home gym and another kitchen and bath. On the lower level, the garage area houses five cars and features hand-hewn beams and posts for a carriage house feel.
The exterior was also redesigned to create a more significant gable end facing the house. Stone veneer was added to the base of the building and board and batten siding and a standing seam roof continue the traditional barn exterior. A rear balcony off the upper level was added for scale and overlooks the outdoor basketball court.
RECOGNITION:
2015 Winner "HGTV," Fresh Faces of Design, Kid Tastic Space
2015 Platinum "National Association of Homebuilders," Best in American Living Awards, Specialty Room/Project
2015 Bronze "Qualified Remodeler," Master Design Awards, Detached Structure
Published in the January 2016 issue of Qualified Remodeler
OTHER PROFESSIONALS:
Photographer: Daniel Contelmo Jr.
SERVICES PROVIDED:
Architecture, Interiors, Construction Contract Administration